hairs removal 808 diode laser machine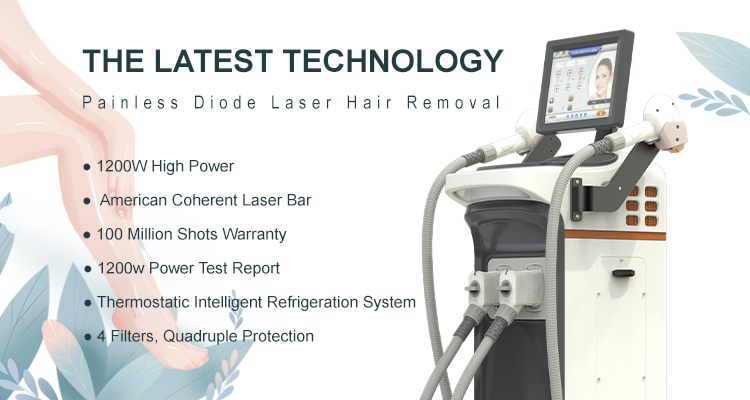 | | |
| --- | --- |
| Laser type | Semiconductor laser |
| Power | 3000W |
| Power of handle | 1200W 600W |
| wavelength | 808nm (755nm+808nm+1064nm optional) |
| Screen Size | 12.4 Inch |
| Energy density | 1-120J/cm2 (Deviation≤±2%) |
| Pulse width range | 1-100ms |
| Spot size | 12*20mm; 12*12mm |
| Frequency | 1-10HZ |
| Cooling System | TEC cooling system |
| Net Weight | 57kg |
| Dimension | 470*500* 1330mm |
| Package Size | 530*492*1120mm |
| Fuse specification | Ø5×25 10A |
| Voltage | AC220V±10% 10A 50HZ , 110v±10% 10A 60HZ |
The principle of diode laser hair removal treat-ment is based on selective photothermal de-composition.The melanosomes in the hair folli-cle can selectively absorb the energy of thelaser. The laser energy emitted by the machineis easily absorbed by the colored hair folliclewithout damaging the epidermal tissue. Theenergy emitted by the laser is absorbed by thehair and the pigment in the hair follicle. It is con-verted into heat, thus increasing the tempera-ture of the hair follicle. When the temperaturerises to a certain level, the hair follicle will beirreversibly damaged, and the hair will lose itsoriginal environment and be completely re-moved.
Triple wavelengths, best result for all skin types and all hair types.
755nm offers more powerful energy absorption by the melanin chromophore, making it ideal for lightcolored and thin hair. It targets the Bulge of the hair follicle and is especially effective for superficially embedded hair. 808nm is classic wavelength in laser hair removal, the 808nm wavelength, offers deep penetration of the hair follicle with high average power,suitable for most skin types and hair types. 1064nm wavelength is characterized by lower melanin absorption, making it a focused solution for darker skin types. At the same time, the 1064nm offers the deepest penetration of the hair follicle.