Aluminum shell (not ABS), 12inch big screen with better visual experience.
100% Korea imported light arm with 5 wavelengths avail- able1064nm 532nm standard (585nm 650nm 755nm optional)
Big spot size 2-10mm adjustable
1-10hz high frequency, faster and efficient treatment
Pulse width 8ns±2ns, do not damage the surrounding skin
Automatic self-checking and Alarm system
Gold quality, good training with 3 years warranty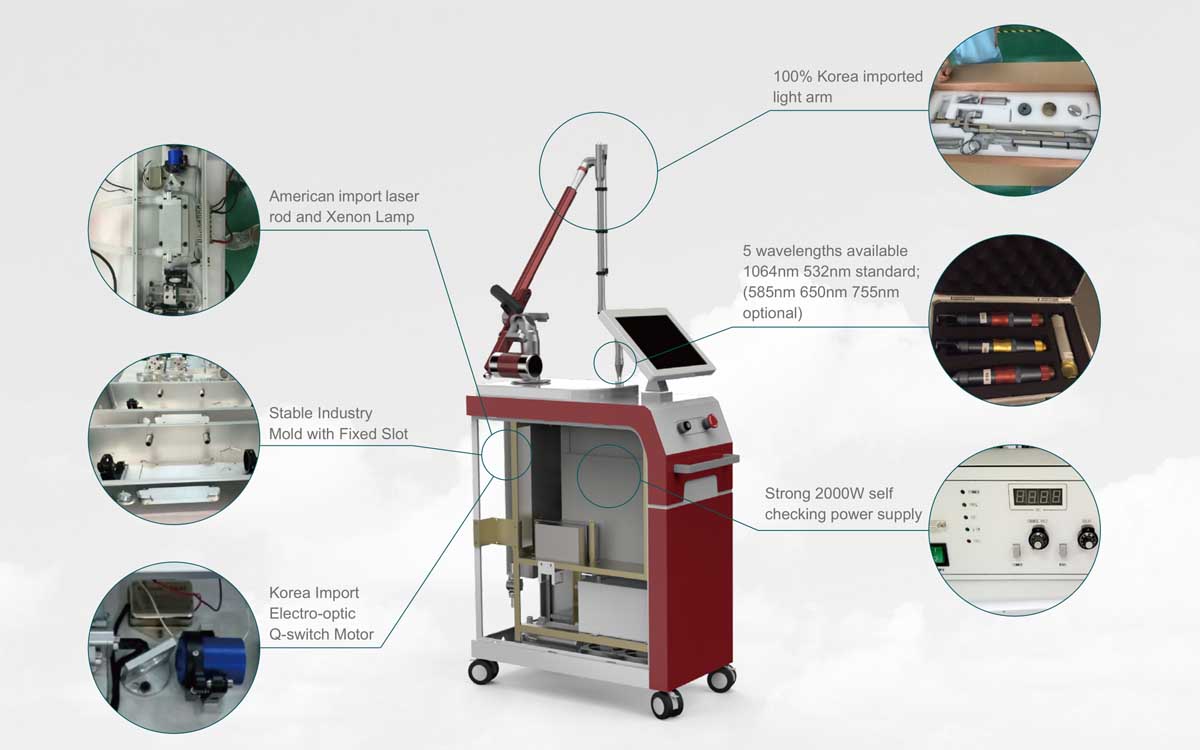 Main Function 1:
Tattoo removal Q-Switch nd yag Laser is a technique that the laser delivers very short pulses(6ns) at very high peak power(hundreds of Mega W) granting the most efficient photoacoustic effect, with no thermal interaction with other tissues. Thus the unwanted pigments of the skin are fragmented in small particles which are expelled through phagocytosis.


1064nm and 532nm laser wavelengths are absorbed by natural chromophores in tattoo ink. They are indicated for tattoo removal. The 1064nm is suggested for dark, blue and black ink and the 532nm is suggested for red, brown, and coffee color.
Main Function 2: Vascular vein removal
The laser light pulses target red pigment (haemoglobin).
*Can be used to remove spider and thread veins in the face(check, themporal region, nasal dorsum, forehead) and legs.
*Some vascular birthmarks,(capillary vascular malformations)
*Varicose veins in the leg
*Facial veins(telangiecrasis)
*Haemangiomas(vascular tumours) in the face and around the mouth
Main Function 3: Long pulse mode for hair removal
The long pulse 1064nm Nd:YAG laser system has been shown the most effective in safely removing hair for customer group with
dark or black skin type.
TREATMENT SCOPE
1. Epidermal pigment: Body Tattoo, Eye line and brow Tattoo.
2.Dermal pigment: Nevus of Ota, birth mark, Coffee Spot, Age Spot, Freckle.
3. Vessels disease: varicosity removal, capillary hemangioma.
4. Laser facial: oil control, skin rejuvenation, skin pore improvement.
5.Hair Removal: Hair removal for lip-hair, underarm, bikini arm, arm etc.